Harris Faulkner rips Biden's 'you ain't black' decree, notes 'whole life' fighting such rhetoric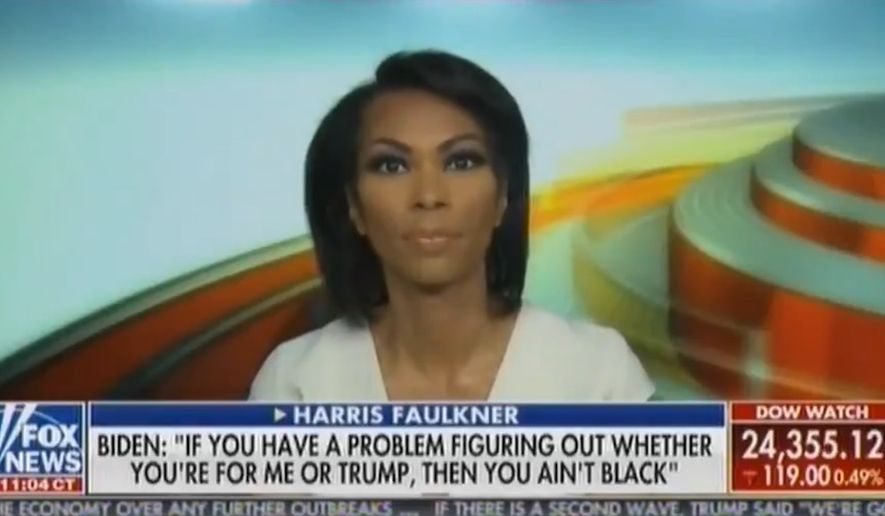 Fox News Channel host
Harris Faulkner
lit into former Vice President Joseph R. Biden on Friday for a radio interview he gave in which he asserted "you ain't black" to black Americans who are unsure whether they should vote for him.
The "Outnumbered" host referenced Mr. Biden's
remarks
to radio host Charlamagne Tha God before telling colleagues that she's fought her "whole life" against the idea that black Americans must be a mental monolith beholden to a specific group or political party.
"I've been fighting against this notion that you're not black enough unless you think a certain way, you vote a certain way, you speak a certain way, you do certain things, my whole life," she
told
Fox viewers.
Ms.
Faulkner
noted her family's military background and her bi-racial daughters before further excoriating Mr. Biden for his remarks, which Biden campaign senior adviser Symone Sanders said afterward were made "in jest."
"This is more than a little offensive," Ms.
Faulkner
continued. "It is short-sighted. It is a blind spot for this former vice president.
The newscaster then cited the group Black Voices for Trump as an acceptable response to Mr. Biden's interview.
"It is clear now, more than ever, following these racist and dehumanizing remarks, that Joe Biden believes black men and women are incapable of being independent or free-thinking," a statement by Trump 2020 Senior Advisor Katrina Pierson read.
Ms.
Faulkner
concluded by saying, "You don't have to be any particular race to know when someone puts you down because you're different."
Please share on Facebook in groups of Trump supporters & tweet on twitter. Support For Trump