House Democrats roll out $86 billion plan for broadband expansion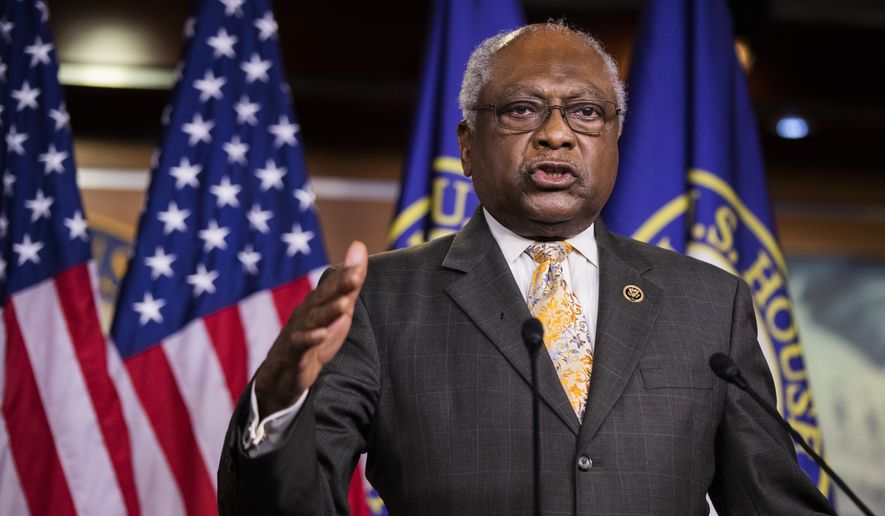 Democrats on Thursday announced an $86 billion plan to expand the nation's broadband infrastructure as Democrats and Republicans work to sort out priorities for a phase four coronavirus package.
Party leaders said some of the funds could be attached to the phase four coronavirus package.
"This broadband deployment is very, very necessary," said Majority Whip James E. Clyburn, South Carolina Democrat. "[It was] made even more necessary by this current pandemic we are trying to respond to."
"If we are going to experience … another round of this virus, our children are apt to be out of school again next year," Mr. Clyburn added. "I can tell you what happens when a child falls two years behind in school; that child will never graduate high school and will never become a productive citizen as a rule."
The broadband element rolled out on Thursday would dole out $80 billion to expand broadband infrastructure in underserved and rural areas. Additionally, it would provide $5 billion in low-interest loans for those communities and other eligible entities to apply for secure loans and lines of credit.

There also would be $1 billion to create a grant program for schools to enhance broadband and digital capabilities in distance learning and to even out disparities in those services.
Internet providers that get federal funds to build out their networks would be required to offer at least one affordable option to consumers. The bill also would provide access to mobile hot spots at homes without Wi-Fi and on school buses.
While Republicans have been hesitant toward passing another big budget coronavirus bill, infrastructure is likely the only major priority Democrats have put forth that is likely to garner bipartisan traction on Capitol Hill, as it's traditionally not a partisan issue.
President Trump in April called for a $2 trillion infrastructure plan on the heels on the $2.2 trillion coronavirus recovery package.
House Minority Leader Kevin McCarthy said he was open to the broadband idea during a conference call with reporters and said he has spoken often with the president about infrastructure.
"I think broadband is an appropriate discussion for us to have regardless of whether we're doing an infrastructure bill or not," he said.
While infrastructure is likely to be part of Democrats' phase four push, their top priorities are vote-by-mail, coronavirus testing and bolstering funding for state and local governments.
House Speaker Nancy Pelosi said states could receive about $500 billion, with a total for state and local governments potentially up to $1 trillion.
Republicans have resisted the idea of giving more aid to state and local governments, with many concerned it would amount to a "bailout."
Senate Majority Leader Mitch McConnell said Monday in a Fox New Radio interview that he thinks there will "probably" be another bill, but his "red line" would be including liability protections for small businesses and health care providers. Likewise, Mr. McCarthy said any additional funds for states, cities and counties that have been hit hard by the coronavirus need to have "a framework and requirements" to avoid misuse.
While negotiations are continuing, lawmakers are trying to find a way to adjust to the pandemic — with some arguing for remote voting and committee hearings and others arguing lawmakers need to be on Capitol Hill like other essential workers.
The Senate is scheduled to return May 4, while the House canceled its plans to reconvene because of the health risks.
"We're 430 members, the decision was made on the strength of our numbers and people coming together," Mrs. Pelosi said about the Senate return. "Now, what [Capitol health officials] advised the Senate, I don't know. They are 100, we're four times that."
Mrs. Pelosi said she hopes to bring the House back around May 11. The next vote the House takes, she said, will be Democrats' CARES 2 package and likely a vote on proxy voting procedures.
Please share on Facebook in groups of Trump supporters & tweet on twitter. Support For Trump