Videos: Hundreds storm Michigan Capitol to protest state lockdown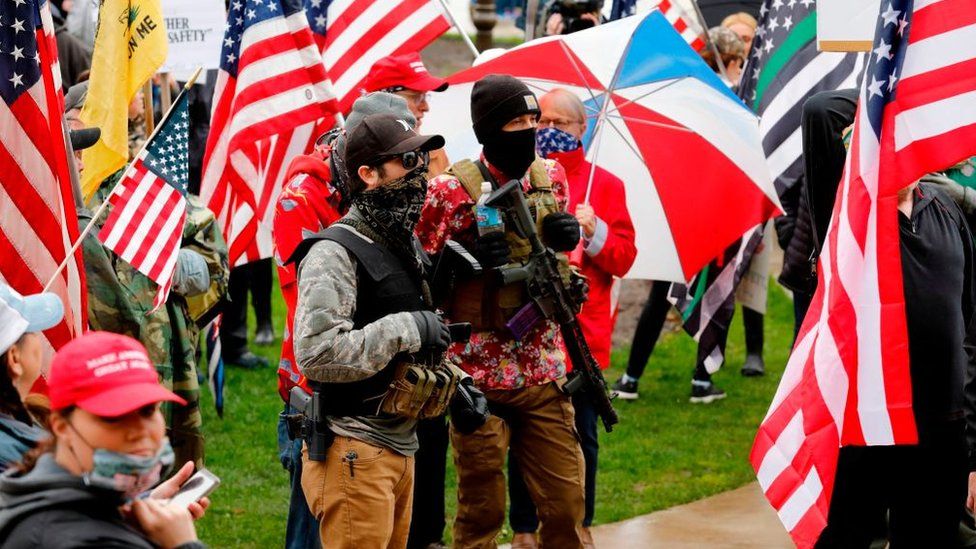 Hundreds of Michiganders stormed the state's Capitol on Thursday, one day after a judge declared Gov. Whitmer's stay-home order constitutional and "necessary."
The demonstration was organized by Michigan United for Liberty, and is the latest in a series of public protests citizens have taken against Whitmer's order and calling on lawmakers to reopen the state.
Protesters first demonstrated outside of the Capitol while lawmakers debated another extension of Whitmer's state of emergency order, which expires at midnight.
However, lawmakers adjourned without voting on an extension of the order.
Some estimated that more than a thousand people were in attendance at the rally.
Protesters later moved inside the Capitol, taking their chants outside the door of the state House chamber. Video shows protesters armed with signs, American flags, and some firearms, chanting "Let us in!" and "This is the people's house; you cannot lock us out!"
On Wednesday, Court of Claims Judge Christopher Murray ruled that Whitmer's stay-home order was
both constitutional and "necessary"
despite "greatly restrict[ing] each of our liberties."
"Most, if not all, individual constitutional rights are not absolute and are subject to a balancing with the countervailing state interest," Murray declared in justifying the order.
"It is true that this measure is a severe one, and greatly restricts each of our liberties to move about as we see fit, as we do in normal times," Murray admitted. "But the governor determined that severe measures were necessary, and had to be quickly implemented to prevent the uncontrolled spreading of the virus."
Murray justified the infringement of rights by describing the order as temporary and in the public's interest, and declaring that Whitmer does not have "uncontrolled, arbitrary power."
"Those liberty interests are, and always have been, subject to society's interest —society being our fellow residents. They — our fellow residents — have an interest to remain unharmed by a highly communicable and deadly virus," Murray wrote
Please share on Facebook in groups of Trump supporters & tweet on twitter. Support For Trump